After this week, House lawmakers will have six session days left before the general election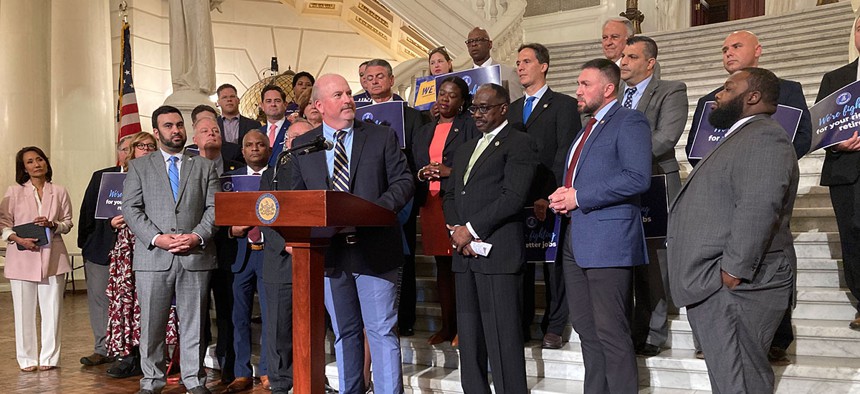 State Rep. Matt Bradford, the minority chair of the House Appropriations Committee, speaks at a press conference held by House Democrats. JUSTIN SWEITZER
SEPTEMBER 13, 2022
By JUSTIN SWEITZER
Frustrated by a lack of action on everything from raising the state's minimum wage to establishing a paid family leave program for Pennsylvania workers, Democrats in the state House called on Republican leaders to hold votes on a series of bills they say would be a boon for the commonwealth's workers.
At a press conference Tuesday in the rotunda of the state Capitol, Democrats rallied for action on legislation that aims to prevent workers from being misclassified, which they say will not only help workers secure higher wages and better benefits, but prevent the state from using valuable tax dollars.
Democrats also used the opportunity to press their Republican colleagues to hold votes on other priorities, including raising the minimum wage, enacting a paid family leave program and expanding Occupational Safety and Health Administration protections.
"We're standing here today in the spirit of compromise, recognizing that we have seven legislative session days. There is still time to ensure that we support our workers," said House Democratic Leader Joanna McClinton, a Democrat from Philadelphia.
McClinton and state Reps. John Galloway and Pat Harkins plan to introduce the worker misclassification legislation later this week. The proposal would codify recommendations made by a joint task force earlier this year.
The recommendations made by the panel include expanding the state's Construction Workplace Misclassification Act to include workers in other sectors, strengthening penalties for misclassification violations and codifying testing requirements in state law to help the state clearly determine whether workers are employees or independent contractors – among a host of other recommendations.
The misclassification of independent contractors, especially those who are gig workers and work for ride-sharing and food delivery apps, has become a growing concern among labor leaders and Democrats, who fear that workers are losing out on wages and benefits afforded to employees. Though app-based companies like Uber argue that their drivers prefer the flexibility that comes with being an independent contractor.
With seven session days left before the Nov. 8 midterm elections, House Democrats spoke with a sense of urgency as they attempted to encourage Republicans, who control the General Assembly, to act.
"There's work to be done, there are working people in need and there are families who are running out of time for us to get that help done," said state Rep. Dan Miller, an Allegheny County Democrat who serves as chair of the House Democratic Caucus. "They're running out of time and we're running out of days to make a difference. Let's get it done."
A spokesperson for House Republicans, however, pushed back on Democrats' assertions that Republicans were standing in the way of legislative wins that would help workers.
"Due to failed Democrat policies that have led to a historic labor crisis, the demand for Pennsylvania workers, the bargaining power of those seeking employment, the starting wage of Pennsylvanians and the effort to provide skilled workers is higher than it has ever been before," House GOP spokesperson Jason Gottesman said in an email.
"House Republicans have been proud to lead on providing increased resources for education alternatives, including career and technical education, and removing barriers to job creation and economic development," he added. "Adding new burdens on Pennsylvania's small business job creators who are still struggling to keep up with increased demand, recover from pandemic-era shutdowns and manage a shortage of workers when the market has already provided additional benefits and bargaining power to those working and seeking employment in Pennsylvania is not prudent."
House lawmakers are scheduled to be in session on Thursday, and have three session days scheduled for next week. They will also be in Harrisburg for session on Oct. 24, 25 and 26 – the final session days before the general election.
Official Link: https://www.cityandstatepa.com/politics/2022/09/house-democrats-call-action-labor-wage-issues-session-end-nears/377098/